"VASTI JACKSON" 
On tour TBA [exclusive  for ITALY]
Line Up: 

Websites: http://vastijackson.com/ 
[browse below for more info]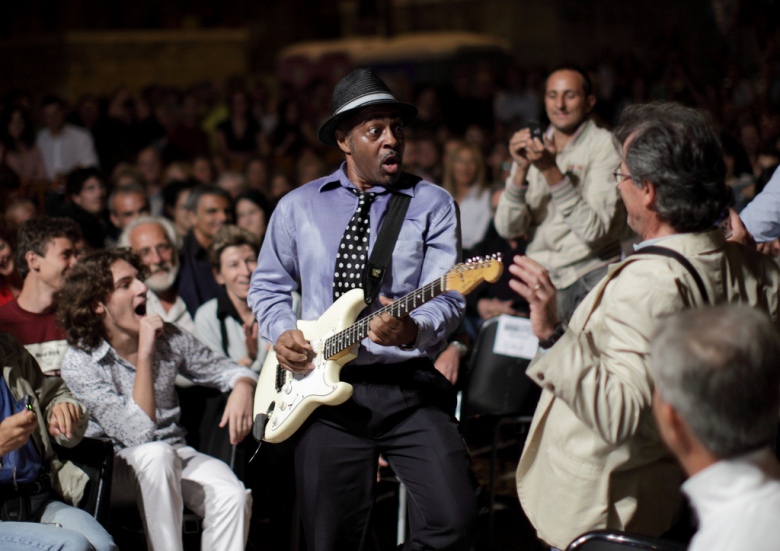 What does BB King, Harry Connick, jr., Martin Scorsese, Wynton Marsalis, Cassandra Wilson, and Irma Thomas have in common? Vasti Jackson!

Vasti Jackson is a soulful world renown guitarist, and vocalist whose presence captures an audience the moment he takes the stage.

Vasti (pronounced Vast-Eye) Jackson is a consummate performer, vocalist, multi-instrumentalist, songwriter, producer. From his early beginnings playing in church, and juke joints in McComb, Mississippi, to festivals, Concerts, and theatres around thw world. Vasti and his band move effortlessly from Blues to Soul to Jazz to Funk to gospels, Raggae, and beyound.

Vasti's talent has been enlarged by an amazing array of musical experiences over 35 years of his vibrant career.

Jackson's Recordings "No Borders to the Blues", "Live In Nashville" and Mississippi Burner present audio buffet of Vasti´s limitless energy and boundless imagination. It spotlights his talents as singer and composer, and his utterly thrilling guitar mastery.

Vasti Jackson has been featured in Guitar Player Magazine, Living Blues, Nothing But the Blues, Juke Blues (England), Blues Revue, and many other publications. He has performed on Dan Akroyd's House of Blues Radio Hour, the Starz Encore Network, WGN-TV in Chicago, and PBS. He has performed, written, produced, and recorded music for HBO, VH1, Mississippi Educational Television, the British Broadcasting Corp. (BBC), and radio and television programs in Australia, Uruguay, Finland, and Canada. Vasti co-produced Bobby Rush's Hoochie Man, earning a Contemporary Blues Record of the Year Grammy Award nomination in 2002.

Vasti Jackson is professionalism at its best. He is a combination of talent, broad experience and versatility. His soulful and energetic performance will take your audience on a journey they will never forget.
"VASTI JACKSON" - Info

Audio 1:
Audio 2:
Video: 
Exclusive Booking Agent:Massimo Piccioni [mobile phone: +39.348.3890192 | email:  This e-mail address is being protected from spambots. You need JavaScript enabled to view it  | skype: MaxPigeons]