The Blues Lioness - "SISTA MONICA PARKER"
On tour July 2012 [Exclusive representation for all Europe]
Line Up: Sista Monica Parker (vocals), Danny Sandoval (tenor sax), Don Caruth (guitar), Leon Joyce Jr. (drums), Artis "AJ" Joyce (bass), Danny "B" Beconcini (keyboards)
Websites: www.sistamonica.com
[browse below for more info]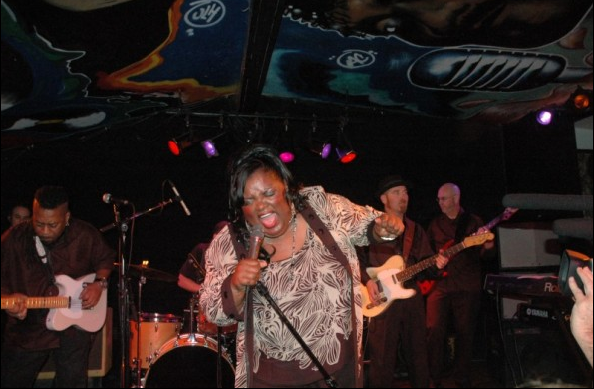 Sista Monica, an award-winning blues, soul, and gospel performer was born and raised in Gary, Indiana. By the age of 7 she was "singing in the Great Band Missionary Baptist church gospel choir," according to her bio. "She absorbed the soul and rhythm and blues music of Detroit and Chicago with influences such as the Rev. Al Green, Aretha Franklin, Mavis Staples, James Brown, and Sam Cooke. Because of her distinct voice and compelling story, she is invited to sing and perform public speaking engagements worldwide. Sista Monica performs with more conviction, passion, energy and power. She has expanded her musical career to include her veteran blues band, and the development of a 50 voice gospel workshop choir. She performs festivals, weddings, corporate events, in nursing homes, hospitals, and diverse spiritual communities. The Sista is a show stopper! Monica sings and leads her band towards the type of events that allow her to impact audiences. She makes a favorable difference and lifts the spirit with her blues, soul and gospel music.
The "lioness of the blues" released her highly anticipated CD "Living in the Danger Zone" on Indie record label Mo Muscle Records on October 18th 2011. She sings, croons, shouts, and belts with power, sass and sultry phrasing on this CD. Sista Monica produces deep-pocket grooves that will have listeners clapping their hands, singing along, and dancing in their seats and on their feet. This is a DJ's delight. "Living in the Danger Zone" offers the very best in female contemporary blues, soul and R&B. Songs like "Fierce Force of Nature" a high energy rockin' blues beat that describes her show-stopping nature to connect with audiences. This CD has a variety of songs with fun and heartfelt lyrics, an awesome band, backing a dynamic singer in Sista Monica Parker. "Living in the Danger Zone" is a must for music lovers of all ages.
"SISTA MONICA PARKER" - Info

Audio:
Video:
Exclusive Booking Agent: Massimo Piccioni[mobile phone: +39.348.3890192 | email: This e-mail address is being protected from spambots. You need JavaScript enabled to view it | skype: MaxPigeons]