Larry Carlton & Robben Ford


THE NIGHT OF THE GUITARS: "LARRY CARLTON & ROBBEN FORD"
On tour: T.B.A. [Exclusive representation for ITALY]
Line Up: Larry Carlton  (guitar), Robben Ford (guitar & voice), Trevor Carlton (bass), Toss Panos (drums)
Websites: http://www.larrycarlton.com/ | http://www.robbenford.com/  

[browse below for more info]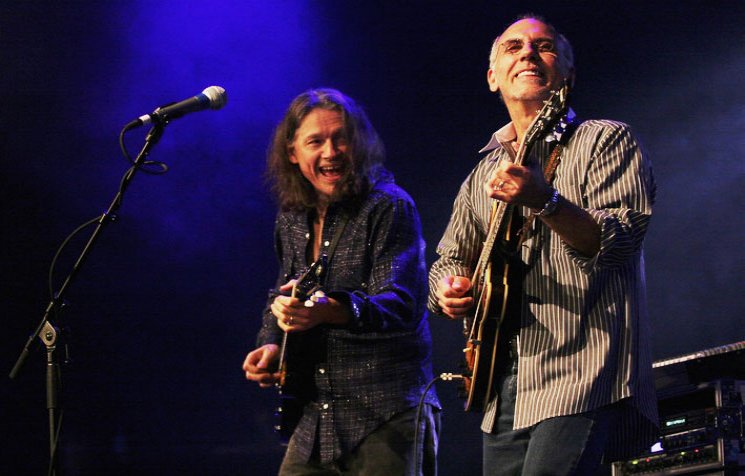 Larry Carlton can be reasonably considered as one of the pioneers of modern guitar fusion. The combination of the experiences accumulated in his career make listening to Carlton's performances a must for all music lovers and gave him, in his long career, a total of 14 Grammy nominations and even won 3 Grammy Awards.
During his incredible career he made numerous partnerships and  it's no surprise that, among the albums in which he participated, you can even count over 100 gold records! A record that no one can dispute, and which confirms the guitar of Carlton as one of the best in the world.
He imposed himself in the 70's as a session musician, played with some of the best musicians and groups of the American scene: Steely Dan, Joni Mitchell, Michael Jackson, Crusaders, John Lennon, Stanley Clarke, Sammy Davis Jr., Herb Alpert, Quincy Jones, Bobby Blue Bland, Steve Lukather, Dolly Parton, Jerry Garcia, Paul Anka, Linda Ronstadt and many others.
Now Larry Carlton returns to his old love, the Blues, and for the occasion he involves another sacred monster of the guitar, probably the one that today, more than any other, represents the new generation of guitar with his personal and innovative style, none other than the great Robben Ford.
Robben has earned his global reputation standing out during the tour with Miles Davis in 1986, in which he joined the technical tricks of Blues and Jazz to get a truly innovative sound.
Robben has also played on records and concerts of Jimmy Witherspoon, George Harrison, Joni Mitchell and was a founding member of the Yellowjackets. In his glorious career he has received several recognitions among which are the two gold records in 1980 and 1989.
The two great guitarists, old friends, now are reunited and are introducing their new "Blues Project" in a world tour. Recently their show was recorded in Paris to be broadcasted on French national television and from this registration soon they will make a live DVD for the delight of their many "fans "..... guitarists and non!
THE NIGHT OF THE GUITARS: "LARRY CARLTON & ROBBEN FORD" - Info

Audio 1:
Audio 2:

Video 1: http://www.youtube.com/watch?v=jBS7BEPb1Jk
Video 2: http://www.youtube.com/watch?v=9QkuQlCH59U
Video 3: http://www.youtube.com/watch?v=YpiDJ16BW0s
Video 4: http://www.youtube.com/watch?v=Lwt9eKDxbbM


Press Kit:
Exclusive Booking Agent: Massimo Piccioni [mobile phone: +39.348.3890192 | email: This e-mail address is being protected from spambots. You need JavaScript enabled to view it | skype: MaxPigeons ]