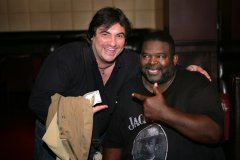 As it often does, unfortunately, even the best pass away.

After yet another fantastic tour which ended last Saturday in Belgium, our tour manager brought Michael Burks' band at the Bruxelles Airport reminding them of their next tour set for October/November 2012.

Unbelievably, early this morning we received the shocking news that Michael had a heart attack in the Atlanta Airport .... and to think that just a week ago we were laughing together while playing my Telecaster and he taught me a beautiful Santana song!

It might seem rhetorical to say that I am grieved but the mere fact that I can't hold back the tears as I write this proves to me that Michael was more than just one of the many artists with whom we have had the pleasure and honor to work with.

Michael is a friend and so I will miss his sweet, though sometimes gruff ways of being together in tour talking mainly about music and sharing the Bluesman's life on the road.

He was the Blues, the real one, the one with feelings and energy, but most of all with such class and sophistication that only his guitar and his unmistakable voice can bring on the stage, this is what made him famous in the Blues scene.

Goodbye Michael.....Thank you for giving me the opportunity to work for you and with you.....All of us in Break Live Music will miss you!

Massimo Piccioni
Exclusive Agent in Europe for Michael Burks Band ..... for ever!