MIGHTY SAM McCLAIN
On tour from 7 to 31 July 2011 [Exclusive representation for whole Europe]
Line Up: Mighty Sam McClain (vocals) | Patrick Herlehy (guitar) | Chad Owen (bass) | Richard Page (drums) | Joseph Deleault (organ/piano) | Grayson Farmer (trumpet) | Scott Shettler (sax) | Russell Jewell (trombone)
Websites: http://www.mightysam.com/


[browse below for more info]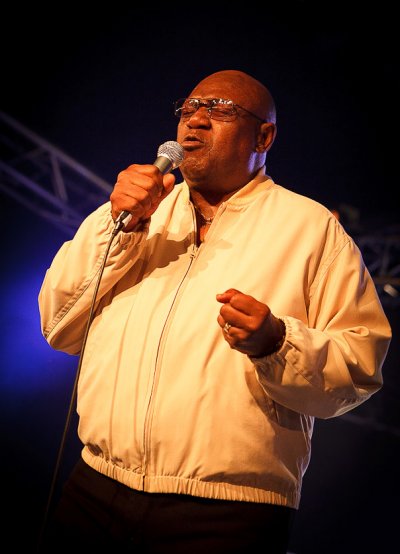 Mighty Sam is not your typical artist. His music is soulful, funky, jazzy, bluesy and yet his words challenge the listener to confront their own lives and hold themselves accountable for their actions. Supposedly "message music" went out in the 1970's, but Mighty Sam doesn't give a damn about what is trendy, he cares much more about telling the truth, and telling it straight from his heart.

Vocalist Mighty Sam McClain is a specialist in Southern soul-blues, one of the original masters from the 1960s, when the music enjoyed its peak popularity. He carries on the tradition of vocalists like Bobby Bland, Solomon Burke, Otis Clay, James Carr and Otis Redding.

Like so many other soul-blues vocalists, McClain began singing gospel in his mother's choir when he was five. At 13, owing to disagreements with his stepfather, he left home and lived with grandparents for a while before hooking up with Little Melvin Underwood. Mighty Sam McClain has lived the blues he sings about, however he didn't let his past hard times eclipse his musical aspirations. He overcame the dark times of childhood abuse, adult alcoholism and homelessness without accepting hopelessness. He trusted in God, himself and his natural singing gift to protect him from sinking permanently into an eternal hellhole.

Sam signed on with the Telarc Blues label in 1999, taking his longtime producer Joe Harley with him and recorded W.C. Handy nominated "Blues For The Soul in 2000 and "Sweet Dreams" in 2001 (also Handy nominated)

Since the late 1980s, McClain's career has been on the upswing again since he put together some great backing bands and carved a niche for himself in Europe.

Mighty Sam McClain is in control – of his life and career as he continues to perform nationally and internationally. It's full steam ahead for this great vocalist! "The Soul of America" is what he is called in Europe – he is, just as the lyrics he wrote, "I'm a singer, a man with a song…and I've got a message for you…"

Sam finished recording a humbling album with a very talented singer from Iran. The album is by Mahsa Vahdat and is entitled "Love Duets Across Civilizations"
"MIGHT SAM McCLAIN" - Info
Audio:
Exclusive Booking Agent: Massimo Piccioni [mobile phone: +39.348.3890192 | email: This e-mail address is being protected from spambots. You need JavaScript enabled to view it | skype: MaxPigeons ]