THE LEGENDARY "DR.JOHN"
On tour from 10 to 17 July 2011 [Exclusive representation for ITALY]
Line Up: Dr. John (vocals & keys) | Herman "Roscoe" Ernest (drums) | David Barard (bass) | John Fohl (guitar)
Websites: www.drjohn.org | http://www.myspace.com/drjohnthenitetripper



[browse below for more info]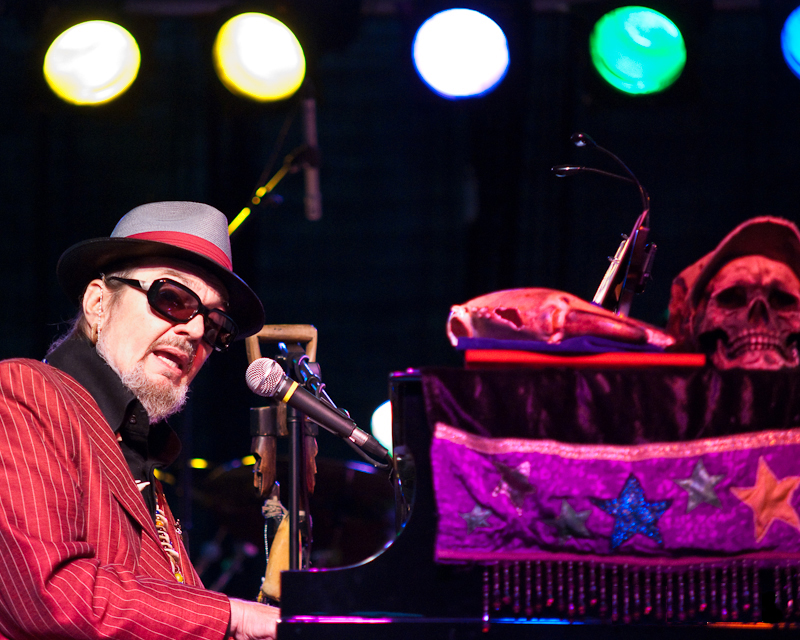 Dr. John is an American singer/songwriter, pianist and guitarist whose music combines blues, pop, jazz as well as Zydeco, boogie woogie and rock and roll. His professional musical career began in New Orleans in the 1950s. He originally concentrated on guitar until that tragic event when his left ring finger was injured by a gunshot while he was defending his bandmate. After the injury, Rebennack concentrated on bass guitar before making piano his main instrument; pianist Professor Longhair was an important influence on Rebennack's piano stylings.

Rebennack gained fame as a solo artist, beginning in the late 1960s, with music that combined New Orleans-style rhythm and blues with psychedelic rock and elaborate stage shows that bordered on voodoo religious ceremonies, including elaborate costumes and). For a time he was billed as "Doctor John, The Night Tripper". The name "Dr. John" came from a legendary Louisiana voodoo practitioner of the early 1800s.

Gris-Gris, his 1968 debut album combining voodoo rhythms and chants with the New Orleans music tradition, was ranked highly on Rolling Stone's 500 Greatest Albums of All Time. Along with Gris-Gris, Dr. John is perhaps best known for his recordings during 1972-1974. 1972's Dr. John's Gumbo, an album covering several New Orleans R&B standards with only one original, is considered a cornerstone in New Orleans music. He also wrote an autobiography, Under a Hoodoo Moon, in 1994. In 2003, Dr. John's Gumbo was ranked number 402 on Rolling Stone magazine's list of the 500 greatest albums of all time. It also earned a place on Offbeat magazine's 1999 listing of the Top 100 Louisiana CDs.

With Gumbo, Dr. John expanded his career beyond the psychedelic voodoo music and theatrics that had driven his career since he took on the Dr. John persona, although it has always remained an integral part of his music and identity.

In 1973 Dr. John released the seminal New Orleans funk album, In the Right Place. In the same way that Gris-Gris introduced the world to the voodoo-influenced side of his music, and in the manner that Dr. John's Gumbo began his career-long reputation as an esteemed interpreter of New Orleans standards, In the Right Place established Dr. John as one of the main ambassadors of New Orleans funk. It rose to #24 on the Billboard album charts, while the single "Right Place Wrong Time" landed at #9 on the Billboard Hot 100 singles chart. A second single, "Such a Night," peaked at #42. Still in heavy rotation on most classic rock stations, "Right Place Wrong Time" remains his single most recognized song. Artists such as Bob Dylan, Bette Midler, and Doug Sahm contributed singular lines to the lyrics, which lists several instances of ironic bad luck and failure.

Dr. John continually released numerous albums, collaborated with different artists and took home so many awards including the Grammy's. After Hurricane Katrina and government bunglers bashed New Orleans in 2005, Dr. John immediately stepped up to the plate with both generous relief fund-raising concerts and recordings and angry public words of protest. One of the Crescent City's most favored sons, Dr. John does his considerable bit to keep the world's attention focused on what needs to be done to help New Orleans come back. In 2008, he released the album "City That Care Forgot," which deals with various aspects of post-Katrina New Orleans and the Gulf Coast. In 2009, "City That Care Forgot" won the Grammy for "Best Contemporary Blues Album." It is considered to be his finest recording in twenty years. After a half century of creating music for others and himself, Dr. John continues to write, arrange, produce and interpret with a passion that has yet to wane. He continues to dazzle and delight audiences across the globe touring consistently. Dr. John, veteran of decades in music, is at the height of his creative output right now.
"DR.JOHN" - Info

Audio:
Video:

Biography:






Exclusive Booking Agent: Massimo Piccioni [mobile phone: +39.348.3890192 | email: This e-mail address is being protected from spambots. You need JavaScript enabled to view it | skype: MaxPigeons ]